Vertical Pump Motor Specials & Discounts
RS Electric Motors is proud to offer U.S. MOTORS® brand vertical motors. Their motors have been a standard in the pumping industry since 1922. They're recognized for their longevity, reliability and ease of use.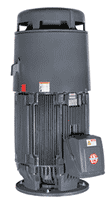 U.S. MOTORS Vertical HOLLOSHAFT® and solid shaft motors can be configured to your specific requirements. Motors are built with various enclosures designed to minimize the effects of the harsh conditions present in turbine, mix flow and propeller pump applications.
U.S. MOTORS motors are manufactured in a state-of-the-art, ISO9000-2000 facility, and built from high quality materials. Their innovative, high-performance design makes these motors the most trusted in the industry.
Horsepower: 3 – 5000
Speeds: 3600–400 rpm
Design Voltages: 208-6900 Vac/3Phase/50 or 60Hz
Enclosures: Weather Protected Type I, Weather Protected Type II, Totally Enclosed Fan Cooled, and Hazardous Location
Efficiency Levels: Standard Efficient, Energy Efficient, and Premium
Solid and hollow shaft designs for use in agriculture, turf, municipal and industrial applications.
Normal, Medium, High and Extra High thrust capacity motors are available
Click to download a PDF for more details.
We now offer volume pricing on Vertical Pump motors. Click 'Inquire' below to request more discount information regarding the motor of choice. Or call us for information on our full product line at 800-279-2267.