Online dynamic testing with the PdMA EMax tester.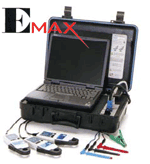 RS Electric Motors now offers the convenience and efficiency of on-line dynamic testing with the PdMA EMax electric motor circuit analyzer. The EMax eliminates the need to shut off power or otherwise interrupt production for testing. It can accurately evaluate a motor and it's associated circuits by collecting data while the motor is operating.
The EMax evaluates three phases of current and voltage simultaneously. This provides power quality and efficiency data, in addition to early indication of faults in the rotor, stator, air gap, power circuit and power quality. With the ability to detect in-rush/start-up current and conduct process analyses, the EMax is the most complete and accurate dynamic tester in it's class.


Our electronics technician has completed MCEMax™ training and is ready to meet your motor reliability needs.
The EMAX on–line motor test equipment offers the most versatile approach to troubleshooting and trending energized electric motors on the market today.

Call us at 800-279-2267 for more information about the PdMA EMax electric motor circuit analyzer or click to Email us.
Comprehensive Data Collection
Online dynamic testing with EMax includes…
Current Spectral Analysis
High Frequency Eccentricity Analysis
In-Rush/Start-Up
Phase-to-phase Voltage RMS
Line-to-Neutral Voltage RMS
Voltage Imbalance
Crest Factor
Total Harmonic Distortion (THD)
% Full Load Amps
Average Current RMS
Phase Current RMS
Phase Impedance
Impedance Imbalance
Power (KW, KVA, KVAR)
Power Factor
Efficiency
Output Power
Torque
More…